Partnership for Tick-borne Diseases Education
Founded in 2015, Partnership for Tick-Borne Diseases Education's (PTDE) mission is to provide online and in-person educational content and materials on tick-borne diseases that can be acquired in the United States. PTDE develops resources that discuss the scientific and clinical evidence for a variety of learners, with content specific to the needs of individual medical professional groups and the general public. PTDE believes that a common understanding of the evidence will encourage the development and use of effective disease prevention programs and foster communication between patients and healthcare professionals that will lead to innovative approaches for diagnosing and managing tick-borne illnesses.
Dr. Elizabeth Maloney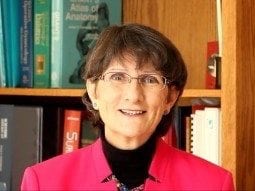 Dr. Elizabeth Maloney is a Minnesota family physician. She received her medical degree from the University of Minnesota in 1986 and completed her residency in family medicine at the University in 1989. Early in her career, she practiced in Guam, where lab and other testing modalities were often unavailable. It was here that she honed her clinical skills and learned to translate history and exam findings into clinical diagnoses and treatment plans.
Dr. Maloney began reviewing the scientific literature on tick-borne diseases in earnest in 2006. Her initial review was an attempt to understand why some patients did not present or respond as described in review articles and conference lectures. When she discovered that Borrelia burgdorferi, the agent of Lyme disease, is a complex organism, the immune response to it is nuanced and there are gaps in the clinical understanding of Lyme disease, Dr. Maloney changed her focus towards educating medical professionals about tick-borne illnesses.
Dr. Maloney began providing accredited continuing medical education courses on Lyme disease for physicians in 2007 and continues to do so. She has also developed similar education for nurses and mental health providers. She has published several papers in peer-reviewed medical journals and is frequently invited to speak to medical professionals across the US. She has served as a consultant to private organizations and government agencies in the US and Canada. Dr. Maloney served on a peer review committee for the Canadian Institutes of Health Research and she was a member of three subcommittees of the federally mandated Tick-borne Disease Working Group.